I used this story time throughout the Fall season for several class visits. I used this same basic format, but edited my story time somewhat based on the age and size of the class. Enjoy!
Book: Mouse Loves Fall by Lauren Thompson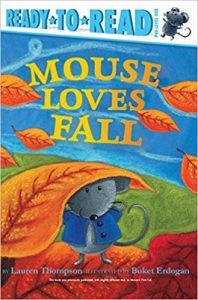 Activity/Song: This was sort of a combined song and activity. I used a mystery bag. Inside the bag were different colored leaves, a felt mouse and a little mouse puppet. Below were some of my materials: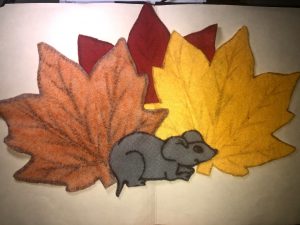 I think there are a lot of mystery bag songs out there but here is a very simple one I used. I actually made this up on the spot because I 100% forgot to look one up the first time I did this activity but then I think I just ended up using it for all my visits:
What's In The Bag?
Oh what's is in the bag?
Oh what's in the bag?
I'd like to know what's in the bag
What's in the bag?
After each song round I pulled out a leaf (ending with mouse and mouse puppet) and we talked about color, shape etc a bit.
Puppet time: The last item I pulled out was always my little mouse finger puppet. Each child would then get a bit of time to pet/feed/hug him.